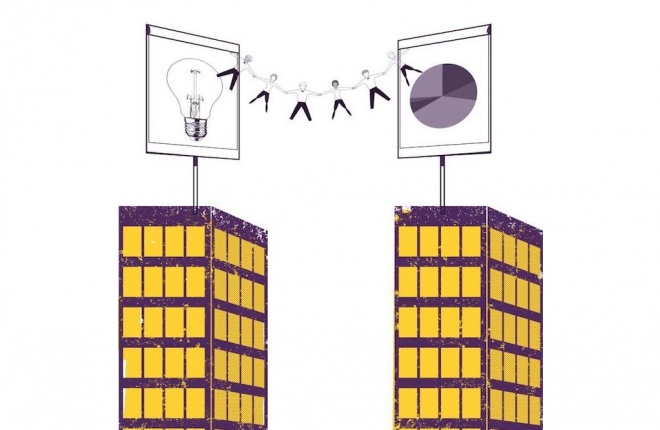 When I joined Diageo in 2007, it was with a decade of agency work behind me – working on content campaigns, digital strategy and media relations for international corporate and consumer brands.
You could see then that once siloed stakeholder groups were converging and the worlds of corporate and consumer were becoming more intertwined. This presented an opportunity to collaborate and leverage the emerging tools and techniques being developed by marketers and apply them to engage all stakeholders, not just consumers.
Brand Diageo 
Diageo is the proud producer of premium drinks enjoyed by millions of people around the world. We have become the industry leader by putting the consumer at the heart of our business. The success of Arthur Guinness, Pierre Smirnoff, Johnnie Walker, Charles Tanqueray and many more over hundreds of years makes us the custodians of some of the most iconic brands in the world. As impressive as this pedigree is, we are not resting on our laurels – innovation drives our company forward. 
It would be easy to leave the innovation to our colleagues in marketing and product development, but that would be to leave opportunity for corporate reputation on the table. We have an ambition for Diageo to be one of the best performing, most trusted and respected consumer product companies in the world. A clear ambition with trust and respect at the centre. This demands a different approach to corporate reputation and a requirement to understand how we would earn trust and respect, with whom and for what, in a level of detail that calls for a different blend of strategy and tactics.
This meant getting clear on the true value at stake locally and globally – not just commercial but also reputational, and being clear on what we would do to maintain and grow that value. 
Our corporate brand strategy, which we refer to as Brand Diageo, is rooted in a powerful connection with the company's purpose and a recognition that we must continue to generate shared value for all our stakeholders. Through a combination of brand and advocacy work, Brand Diageo provides the strategic framework to drive positive engagement and earn more trust and respect. 
We are conscious of the equity invested in our consumer brands, their positioning in the market, their authenticity and individuality. It is for this reason that we are not pursuing an overt above the line, consumer-facing corporate brand strategy. We know, however, that considerable value can be unlocked and protected by building a powerful stakeholder brand to ensure Diageo is consistently known and understood by employees, potential employees, regulators, government, media, customers, NGOs and investors.
To achieve this we focus on the six areas that we believe matter most: the role of alcohol in society, our economic and social contribution, talent, innovation, our brands and, of course, business performance. 
These areas provide a complex set of messages, a broad stakeholder universe and a time-sensitive task – regular financial reporting and a rapidly changing world in terms of platforms and channels means we need to act quickly and decisively. We need a strategy to allocate our budgets in the most effective way possible, with data to show proven impact and drive efficiency. 
To do this we draw from brand marketing and the advances in content, channel mix, data and insight tools. We apply a mix of real-time and periodic stakeholder analysis to be clear on the value at stake globally and locally, and the relative performance of our communications campaigns. It is no longer enough for communicators to work in silos within businesses, showing qualitative analysis of their work. To drive a step-change in communications, I believe we need to collaborate and move towards quantitative measurement with clarity on the value at stake.
At Diageo, we do this by partnering with functions and markets to co-create, adapt and apply the tools and techniques that can make a difference to our performance. This means that as the Johnnie Walker or Guinness brand team are using a new digital tool, form of content or channel, we apply the same corporately wherever appropriate and share the insights. This can only happen if we are able to foster effective, agile collaboration across the business. 
"To drive a step-change in communications, we need to collaborate and move towards quantitative measurement with clarity on the value at stake."
In practical terms, the blending of paid search and content campaigns with corporate PR, while leveraging owned channels to reinforce the distribution of a campaign, drives both effectiveness and efficiency. It also builds capability within the core team, which is one of the most exciting outcomes. Having spent a number of years working across both consumer marketing and corporate  communications, I firmly believe the communicators of the future will require the fluency and hands-on experience of building brands. In a world in which your stakeholders are able to connect at the click of a key, this presents real opportunity for truly integrated and strategic communications. 
The right mix 
Let us take Scotch whisky as an example, a category which represents the heart of Diageo. As the world's largest producer of Scotch, we take great pride in promoting the category, as well as our individual brands, and this is where corporate and marketing work hand in hand to execute effective campaigns. In February, we launched the first International Scotch Day and applied an integrated approach to content and channel mix, leveraging both brand and corporate paid media to reinforce media relations, content distribution and employee engagement.
The results were strong with high engagement on our social channels, effective spend through search, and a variety of international media titles carrying interviews with our people. The content we produced and distributed outperformed the channel benchmarks and the data enabled us to see in real-time the most effective attributes to drive engagement for future campaigns. 
The most energising and important part of the campaign was the engagement with our employees. If we want to speak authentically with one voice to our stakeholders, we firmly believe that this begins internally. Diageo employees activated the campaign globally, demonstrating their passion for Scotch at multiple events and across their own social feeds. 
The retention and recruitment of talent is one of our most important focus areas. When defining our corporate brand strategy in an earlier role, the opportunity to create an effective employer brand was clear. Again collaboration was core to this and we formed a virtual cross-functional team with HR to develop and launch our first global employer brand strategy.
We leverage our content, channel mix, data and analytics to drive talent recruitment and support retention. This blend of functional disciplines executing an integrated plan not only delivers greater efficiency, it removes silos and builds further cross-functional capability. Since implementing the strategy in 2015, Diageo has moved from 49th to 18th in LinkedIn's global employer rankings and outperformed our peer group. 
"We formed a virtual cross-functional team with HR to develop and launch our first global employer brand strategy." 
Communications professionals are working in a faster moving, more dynamic environment than ever before and we have the opportunity to experiment and learn with the plethora of digital tools now at our fingertips. With data and insight freely available, cost should not be a barrier. Rather than out-sourcing this work to agencies, I believe in-house communicators should be hands on, working the content and channels and interpreting the analytics to understand performance and build capability. 
Integrated communications means different things to different people, but we are now operating at a time where we can and should adopt the tools and techniques that can genuinely unlock measurable value, build capability and deliver greater impact from our work. It is this sort of approach, encompassing integrated and strategic communications, that will distinguish and build the reputations of tomorrow's companies.