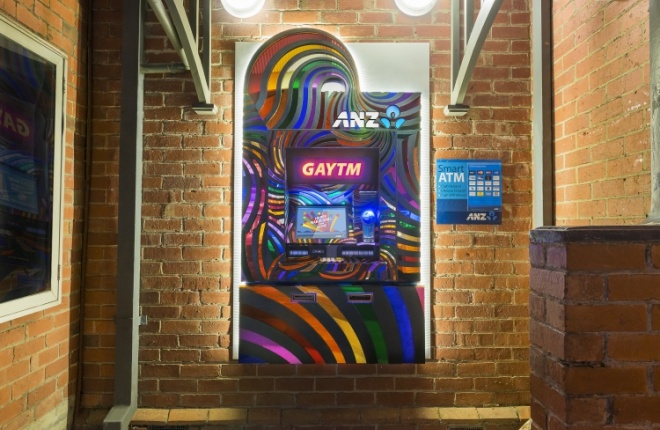 With new technological developments and the associated viral culture, the creative possibilities for public relations activities and the impact they can achieve are growing exponentially.
This brings new potential for organisations to champion their messages by matching their communications to an accompanying eye-catching stunt to have real impact on their audience. By going viral, stunts now have the power to both increase awareness of your organisation's brand and to change your audience's attitude towards it.
(Main Photo: ANZ/Keren Dobia)
You only need to consider the ALS Ice Bucket Challenge to see the global reach and social impact campaigns can create by combining strong content with a striking stunt. When celebrities like Mark Zuckerberg and Bill Gates posted videos of themselves pouring ice cold water over their heads, it helped spark a viral sensation which saw the ALS Association gain a 3,500 per cent increase in donations, receiving money from more than three million people around the world.
As powerful as a stunt can be in helping a campaign reach a global audience, the search for the superlative stunt is a serious challenge. Not only do they require a lot of research and often a lot of resources, when things go wrong it can quickly escalate on social media. Only last month, Starbucks received an angry backlash when their baristas wrote 'race together' on coffee cups as part of an anti-racism campaign. Thousands of angry tweets and Facebook posts forced Starbucks to abandon the stunt and left the organisation with a poorer reputation than before the campaign. So how can you avoid such negative sentiment and ensure your stunt is a help and not a hindrance? To gain a better insight into how to get it right, Communication Director asked two communicators behind successful stunts to share their processes.
Photo: ANZ/Keren Dobia
What's pink, glittery and accepts all  major credit cards?
In 2014, Australia and New Zealand Banking Group, or ANZ for short, transformed 10 ordinary ATMs into sequin studded, fur covered GAYTMs to celebrate and promote ANZ becoming the principle partner of the Sydney Gay and Lesbian Mardi Gras. The surprise reveal of these GAYTMs caused a global stir on social media, bringing the bank over 62 million media impressions and thousands of new customers. Off the back of this success, the GAYTMs returned in February this year, with a new feature, 'the only GAYTM in the village', where over 20,000 Australians voted for a rural town to have one of the creative cash machines installed. We spoke to ANZ's head of marketing, Carolyn Bendall, to better understand how they created such success.
 "When looking to do these big and impactful things", Carolyn recommends, "it's always important to stay commercial as well. Be very clear about what it is that you're trying to achieve and build a business case to do these great things that you know are going to work for the organisation and have the return your organisation is looking for". Carolyn also stresses that when planning a stunt it's essential to ensure that it is authentic to your brand. When talking about the GAYTMs she says, "I honestly believe it worked for us not only because of the great ideas and great execution but also because it's true to our brand."
While ANZ only became the principle partner of the Sydney Gay and Lesbian Mardi Gras in 2014, it had been a major sponsor of the event for the seven years prior to the GAYTM campaign. During this time, it had extensively communicated the bank's belief in diversity, inclusion and respect. Because these messages had already been made public by ANZ, Carolyn believes that, when the time came to create the GAYTM campaign, "we had the right to." She comments further that, "I see some brands, when things fail on social media or fail overall, it's because they don't really have the right to be in that space in the first place". A great example of this is the already-mentioned Starbucks 'race together' campaign. With no prior strong anti-racism ties to the Starbucks brand, the campaign was not perceived as authentic by their audiences who were consequently critical of the organisation.
Photo: Olso Municipality
The sweet smell of success
However, if you have thought through the relationship between your stunt and your brand, ensuring it is an authentic match that can achieve your organisational goals, a well-executed stunt can have a far-reaching impact. For Vivi Paulsen, chief engineer at Oslo Municipality, Water and Sewerage Authority in Norway, a colourful if pungent stunt was a vital element in helping her organsiation's work of changing the habits of Oslo's inhabitants.
 In a bid to reduce the number of foreign objects being flushed down the municipality's many toilets they launched the Pink Pee, Poo and Toilet Paper campaign, which aimed to encourage the people of Oslo to only flush these three 'items'. To the public's surprise the corporation transformed 190 manhole covers bright pink, sporting the Pee, Poo and Toilet Paper message. "The really nice thing about this concept," says Vivi, "is that we, the municipality, own the manholes. So it was a brilliant way to get people's attention in a unique way".
When asked about the impact of the colourful covers, Vivi says, "the stunt was the most successful part of our campaign." To measure just how effective it was, the Water and Sewerage Authorities conducted a public survey two weeks after the manhole covers were removed and found "as many as 60 per cent of the people who had noticed the campaign had seen the pink manhole covers, compared to 38 per cent visibility on traditional billboards and 15 per cent on mobile phone advertising." ANZ received similarly positive measurement scores. In addition to surveys, media impressions and customer acquisition, ANZ also looked at sentiment. They found the GAYTMs received 90 per cent positive sentiment, an impressive feat considering they used no paid social media during the initial reveal in 2014.

With such a strong impact, it seems that stunt events have an advantage over other traditional media forms. For Carolyn Bendall, the benefit was cutting through and creating the disruption around a bank, a traditionally conservative organisation. "We wanted to do something that got our message across effectively but also started to reposition ANZ in the minds of people", she says. On ANZ's belief in diversity, inclusion and respect, Carolyn comments that the GAYTMs were "a very deliberate strategy to take the message far wider into what we thought would be the Sydney community, maybe the Australian community. Actually, where we ended up was the global community."
For Vivi Paulsen, the free form of a stunt event allowed for better symbolism and ties between their campaign and their organisation. "The manholes also represent the entrance to our hidden service, the underground sewage systems. This contributes to strengthening our message and gives a nice touch to our campaigns." Like Carolyn, Vivi agrees that stunts have the advantage of cutting through to an audience and sparking interest. While we are bombarded with traditional forms of advertising like posters, billboards and ads, a unique and creative canvas such as a manhole cover or an ATM can help ensure messages stick in people's minds. On the best part about using the pink manhole covers, Vivi says "It's an excellent way to bring out our message in a way that's fun and eye catching."
So while the backlash to a bad stunt can be brutal, getting it right can have a huge measurable impact on your campaign and help launch your organisation's message into the global media space. While it is important that the stunt is carefully planned to deliver your organisation's message and to stay true to the identity of your brand, it also presents a tremendous opportunity to be creative. To cut through to an audience that has a decreasing attention span and a million other messages in mind, perhaps it's time to add something fun and fresh to your campaigns, and a great stunt event can do that. Bright pink paint and glitter recommended.