Communication is the sister of leadership, yet in many organisations and across our profession, we fail to demonstrate the impact of effective internal communication.
Working in a communications role in the UK's National Health Service NHS) right now is one of the best and most challenging roles in our industry. The NHS is one of the most trusted brands in the world, with 98 per cent brand recognition. There is a constant backdrop of media crisis and decreasing public trust, and how we practice communications is fundamentally changing. The internal communication challenge is huge as we have one of the largest and most diverse workforces in the world, with over 1.3 million employees.
(Main image: Photo by rawpixel on Unsplash)
Across the NHS, we have a huge challenge ahead of us in the future, and communication is at the heart of it. We need to create a culture of trust, engagement and innovation. But how do we demonstrate the impact and contribution that internal communications can make in our organisations or to our clients?
If leaders and managers want to achieve their potential, they need to embrace the power of effective communication on organisational culture and performance. Therefore, we as professional communicators need to demonstrate our worth. We need to evaluate our own performance and we need to be data smart, positioning communication as the sister of leadership.
" We need to be data smart, positioning communication as the sister of leadership."
What is the value of communication?
As the lines between internal and external communication blur, communicators can help their leaders and managers understand the value of communication with three overriding themes
The power of conversations: when practiced well, public relations and internal communication is two-way. It involves organisations listening to their employees and adapting how they do business
Powerful human stories: communication is about relationships and people that invoke action and keep things real, stories can help simplify the complex and make a real connection and;
Engaged leadership: Communications supports those in charge to be visible and accessible
We no longer need to make the case that the lines between internal and external communication have merged. You only need to show your chief executive the reviews on public facing websites like glassdoor.com for them to understand that great internal communication will affect their external reputation. Boards know that external reputation influences the bottom line and if you cannot recruit talented people, you cannot deliver great services. Internal engagement and external reputation are intrinsically linked.
In light of future communication trends, this integration is only going to become more developed, as corporations adopt communication tools and technologies that we are more familiar with in our private lives. How long before Alexa is playing our 'team brief'?
Reserve your tickets now to learn more about natural language processing in internal communications at Rachel's case study session at the 2019 European Communication Summit
So why measure internal communication? To cite a familiar quote by American management guru Peter Drucker, "what gets measured gets managed".
In addition to chief executives and Boards there are many beneficiaries of evaluation, and any evaluation report – like any piece of great communication – needs to be tailored to the audience. The important thing is to ensure that evaluation reports are designed to drive improvement and conversation, not to justify any pre formed conclusion.
Theory: models of internal communications evaluation
What about the theory? Great internal communications evaluation starts with an effective planning process. At the NHS, I use an approach developed in government communication based on a cyclical process of scope, develop, implement and evaluate.
During the 'scope' phase of the planning process, setting clear and meaningful objectives is a critical part of internal communications planning. It is the basis for ensuring that you achieve the right results and are able to demonstrate your progress and where you need to work to improve.
The starting point should always be the aims and objectives of the organisation itself – what is its purpose, vision, mission, strategy, values and focus? Weave the business objectives into a clear articulation of what outcomes – particularly changes in behaviour – you want to achieve and what communication objectives are going to help you achieve them. Undertake a proper situation analysis – conduct some research at the outset to understand what your audience is currently thinking, feeling, doing or saying.
This enables you to know what needs to change and, therefore, what your communication needs to achieve. As communication is increasingly fragmented, it is also important to understand the external environment and impact of your communications. You workforce will undoubtedly be using social media, so understanding how they consume and use external media is also important.
Most importantly, ensure your communication objectives are smart:
Specific: Objectives should specify what they want to achieve.
Measurable: You should be able to measure whether you are meeting the objectives or not.
Achievable: Are the objectives you set, achievable and attainable?
Realistic: Can you realistically achieve the objectives with the resources you have?
Timely: When do you want to achieve the set objectives?
A commitment to measurement and evaluation is a real hallmark of a great internal communication team. The importance of setting clear, meaningful objectives cannot be overstated, and it is equally important to measure against them. Strong teams plan and execute internal communications based on real intelligence – about the business, about the mood of employees and, most importantly, about the behavioural changes that are prompted or influenced by their activities.
However, research does not have to cost the earth. A huge amount is achievable on a shoestring budget. Work with other areas of your business to gain insight into your workforce for example, understand feedback from your customers and look at how your workforce are using social media. Look for ways to piggyback off existing research like the annual employee survey and get into the habit of running focus groups and conducting quick-fire 'pulse surveys'.
The Evaluation Council of the UK's Government Communication Service has developed an evaluation framework for all its services, including the NHS. This new framework supports a more consistent approach to evaluation across government communication – it is a tool that helps practitioners align outcomes to objectives. It covers valid metrics for media, marketing, digital, stakeholder engagement and internal communications.
Communicators are provided with a handy desk-drop framework as a quick, easy reference tool to ensure we measure what matters. It reflects the needs of a modern communications team and promotes an integrated communications approach where all areas within communications have a part to play.
This model takes you through inputs, outputs, out-takes and outcomes – to eventually demonstrate the organisational impact of internal communication.
Measuring inputs and outputs is important: for example, how many stories are on your intranet? However, communication measurement should not stop there and sometimes it is difficult to move on from simply measuring outputs.
We need to find various ways to evaluate the "outtakes" – what people have actually understood from your internal communications. Have you moved their knowledge and understanding of a subject?
Look at what they say on social channels, are more people searching for a particular topic on your intranet? Ask people what they think, call them, speak to them – have a conversation. Test whether or not the communication has been received and what has been understood
We then have to think about how to evaluate the "outcomes": what is the impact for the organisation? Has trust in leadership improved? Have you created greater advocacy amongst colleagues? What is the behaviour you hoped to change and has it shifted?
Think about the organisational impact first: what do you want people to 'think', 'feel' or 'do' as a result of internal communications.
"Ask people what they think, call them, speak to them – have a conversation."
Organisations who do not invest in good internal communications expertise will not achieve the successes they could, in relation to culture, engagement and performance.
Government Communication Service Evaluation Framework model: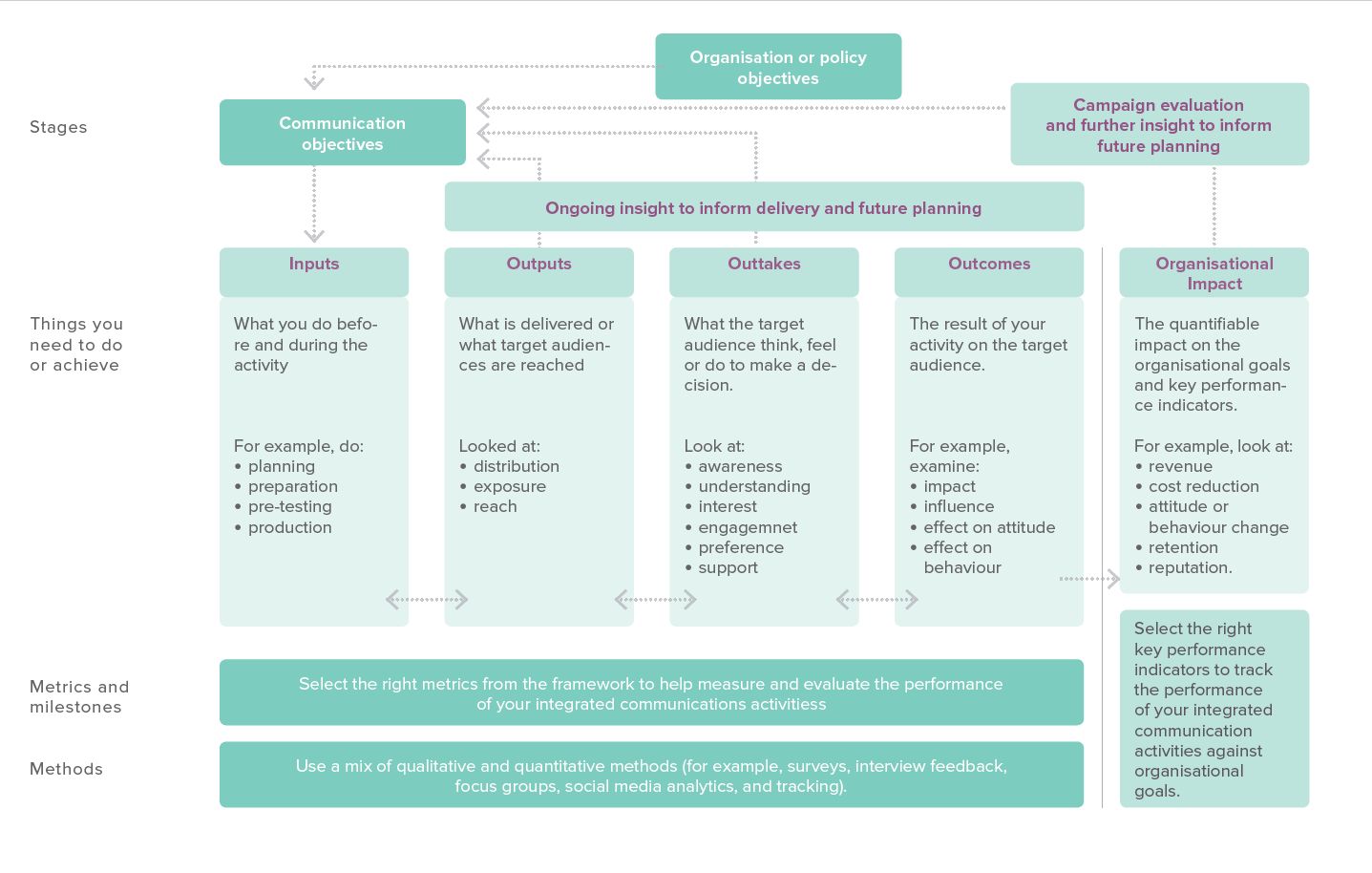 Theory in practice: evaluation rhythm
In every organisation I have worked in, I have developed a performance dashboard for internal communications. Not only do I think about the audience for my communication evaluation, but I also think about the rhythm of my evaluation, on a daily, weekly, monthly basis. This is the backstop, the regular rhythm.
You may want to create an organisational dashboard or one for specific campaigns. Let us look at two campaign examples.
First example: in 2014, the Care Quality Commission inspected the Trust and upon completion placed it in special measures. A re-inspection in 2015 found little improvement against previous recommendations.
In light of this, a communications campaign was developed in close alignment with the Trust's existing communications and engagement strategy, Pride with a Smile, with two core aims:
to ensure all staff had a better understanding of their role in managing and preventing clinical incidents
to empower the management team to identify patient safety issues
The Good Governance Institute in collaboration with Barking, Havering and Redbridge University Hospitals (BHRUT) and digital survey company Sentiment 360 have developed a unique and innovative patient safety campaign to increase staff engagement and quality improvement at BHRUT.
Over a period of six months, a communications campaign was developed around five quality issues identified by the Trust ("Duty of Candour", "Speaking up", "Falls", "Medicines management" and "Patient records"). Feedback was gathered throughout BHRUT via a live language recognition survey tool which uses AI technology and natural language processing. The campaign engaged staff of all disciplines and at all levels. Areas of patient safety in which staff had the greatest knowledge were identified and key problems highlighted.
Incident reporting across some of the five quality concerns increased, particularly in 'Falls', where reporting increased by 28 per cent in the month the campaign focussed upon this issue. Incident reporting across the Trust has increased: over the initial six months of the programme, Near Miss reporting increased from an average of six to 96 near misses in December 2015.
What made the Pride with a Smile campaign unique is that:
Staff from the Trust were selected to act as the face of the patient safety theme
The campaign was widely distributed to all staff members to reaffirm that patient safety is the concern of every staff member at BHRUT
The patient safety memos were distributed across all hospital sites and throughout the day to ensure maximum engagement
Feedback was analysed using Natural Language Processing and presented in real-time
Through the use of Sentiment 360 staff were able to feedback 24 hours a day via a unique portal on the Trust website or via a smartphone app
Second example: in autumn 2017 we launched a campaign aimed at dramatically increasing uptake across the NHS and local authorities of our Child Protection – Information Sharing initiative (CP-IS).
Too often when tragic cases of deaths of abused children occur, serious case reviews point to missed opportunities to intervene and a lack of joined up communication between agencies. For example, in 2014 a young child Ayeesha Jane Smith, not yet two years old, died from injuries described as those normally seen after a car crash. Her mother was jailed for her murder. The subsequent serious case review found she had been seen multiple times at various NHS settings in the months leading up to her death, and her social care hadn't been aware of all of those visits. It recommended the urgent implementation of CP-IS across the area where Ayeesha lived.
An image from the Do You Have The Complete Picture? campaign /Image: NHS
CP-IS, which links up NHS and local authority databases so that an alert is automatically sent to a child's social worker if they attend any NHS unscheduled care settings (such as A&E or a walk in centre), could have made all the difference. It has the potential to save lives by giving those caring for children the complete picture, but relies on the whole country being linked up to it to be a truly national service. We needed to accelerate the rate at which it was being implemented across the system, so launched a visual Do You Have The Complete Picture? campaign, utilising case studies and voices of frontline staff who had already gone live and were seeing the benefits.
Top tips for evaluation
Know your audience – who are you providing an evaluation report for and why
Be data smart
Evaluate to improve and get better – not to exaggerate, don't fear failure and therefore don't measure
Demonstrate reputational and external benefits of great internal communication
Communicators can make an impact with internal communications. Through understanding the business and coaching colleagues in the tools, techniques and channels available to them, they can demonstrate how communications can affect trust, engagement and innovation. They can demonstrate case studies of where it has worked well and not so well.
Internal communication is no longer the post room for the chief executive. It is a powerful and strategic management function with the ability to build advocacy and drive an organisation to adapt, improve and to do great work. Implementing high quality evaluation frameworks, like the ones illustrated above, is key to helping organisations realise the potential and value of internal communication and engagement.