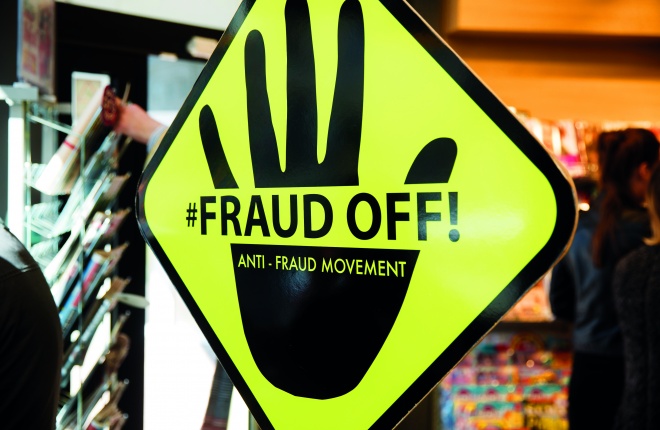 Fraud can be found in many aspects of daily life.
Too often, it becomes part of our everyday routine and passes by without much notice, perhaps because national and EU budgets seem to be abstract in comparison with our personal assets. However, fraud has a direct impact on our economy and so each one of us should take some responsibility.
(Main image: photo by Ministry of Finance of the Republic of Latvia)
Cooperation and networking brings effective results in various fields, which is why European Commission developed the European Anti-Fraud Office Communicators Network (OAFCN) with the involvement of experts from different EU Member States. OAFCN was an initiator of the plan to communicate and highlight fraud prevention. Each country had an opportunity to evaluate and brainstorm different ideas.
Research shows that the perception of fraud demanded immediate action in Latvia. Therefore, in 2017 public institutions, law-enforcement authorities and non-governmental actors have came together to fight fraud and educate Latvian society with the anti-fraud movement #FraudOff! (#Atkrāpies!).
Change is in the air
According to a 2017 study by marketing and public opinion research centre SKDS, 66 per cent of Latvians indicate a high level of unfairness in the country, with more than half of the population exposed to some kind of unfair practice over the last three years. For example, it is estimated that counterfeit products cost the Latvian economy 141 million euros each year. So called "envelope wages", double accountancy, sales of counterfeit goods and small everyday actions such as renting apartments without a contract or payments to a hairdresser in cash without a bill creates an unlisted part of the economy. 
Sections of our society see tax payments as abstract money for abstract aims; furthermore, some believe that the shadow economy is a normal part of any society. That is why we need to use not only controlling and punitive methods, but also complex and innovative solutions to change social attitude towards fraud and the shadow economy. Motivating people to live and work lawfully is one of the most important tasks.
However, the situation is complicated by the fact that the attitude of Latvians towards fraud is not wholly negative. The purchase of counterfeit goods or tax avoidance tends to be perceived as an act that is not an occasion for condemnation, but rather worthy of boasting. Twenty per cent of respondents in a 2018 SKDS study said that fraud is not always blameworthy or criminal. Nineteen per cent thought that not doing unfair things oneself is sufficient, and that there is no need to report other people. Thirteen per cent even declared that reporting fraud is bad practice.
Nevertheless, a significant section of the population has higher ethical values – responsibility, honesty and courage. The 2017 study shows that approximately 21 per cent of respondents are more likely to choose products and services from a seller with publically-confirmed honesty. (The number has grown to 25 per cent after the first year of the #FraudOff! campaign).
These results confirmed that there was a powerful need for strong communications against fraud. We chose to focus our communication on the audience who had already expressed themselves to be ready to confront different manifestations of fraud, as well as its influence on their daily life and the economy, as well as on those who had expressed a lack of knowledge and experience. Change was in the air. We just needed to embrace it.
Fraudulent fashions
In many ways, social campaigns that aim to change the behaviour of an audience are the most paying attention, showing interest and understanding, taking a decision to act, taking action, and evaluating the accuracy of the choice.
The long-term nature of the campaign and the diversity of fraud inspired us to develop not just a campaign but an entire movement against fraud. In order to disrupt society's historical comfort with adopting fraud, provocation was chosen as our strategy to attract attention. 
After searching for a single word that would contain both the variety of unfair practices and a negative attitude towards all types of fraud, we created a neologism: #FraudOff! (in Latvian,  #Atkrāpies!). The new word was also given a definition: to resist and express opinion against fraud. It is also used as a provocation: if you are not honest, Fraud Off!
---
Campaign messages
The second "#FraudOff!" campaign was launched in March 2018 and consisted of five key messages for young people to take into account when establishing a relationship with their first, or a new, employer:
 If you think the employer is engaged in unfair practices, then he is probably cheating in other areas too – so it is just a matter of time before the employer will cheat on you too. Take a stand by simply saying: "Fraud Off!"
Do not agree to receive pay in "envelopes" as it can often disappear or decrease and in these cases, it is difficult to prove that this was the wage you had originally agreed on.
Request a written employment contract; do not rely on or believe verbal promises. Before signing the contract, make sure that all the information provided is accurate as fraudsters are brilliant storytellers.
The employer must teach you how to work safely – ask the employer if you do not understand something. Never pretend to be a hero; never be reckless.
Check if the employer pays your social taxes and is fulfilling their promises. It is possible to check whether the employer is paying your social taxes on smartphones. Resist and express your opinion against fraud! Take a stand and say: if you're not honest, #FraudOff!
---
To attract attention, we began the campaign with a social experiment focused on a specific theme. In 2017, the focus was counterfeit consumer goods. Latvian celebrities attended public events in clothes that had visible price tags, indicating that the items were counterfeit. The celebrities posted about their fraudulent fashions on their social media channels and generated considerable buzz.
 In 2018, the campaign was devoted to the ethics of work- to raise public awareness among 16-24 year olds of key considerations when establishing a working relationship with a potential employer. Here, a teenage social media influencer engaged her online followers with experiences in the job search field.
As soon as sufficient attention had been attracted, work began on the other stages. To get people to commit to acting, we used the Self-Persuasion Theory, which states that placing people in situations where they are motivated to change their own attitudes or behaviour is more effective than direct persuasion with arguments proposed by the organisation.
Celebrities, influencers and organisations involved in our campaign individually formulated precisely why fraud is an unacceptable practice and demonstrated their condemnation of cheating using our visual materials: branded T-shirts and hoodies, door stickers, posters and banners. For example, companies put stickers on the doorway demonstrating their rejection of cheating and promising to their clients and partners to be honest.
We understood that, after the first action, audience will evaluate the accuracy of the choice and will decide whether to repeat the actions or abstain from them. Therefore, we took special care to create long-term and integrated communications involving all the organisations supporting the movement. That helped to create a permanent flow of information about the topic and actions.
A survey conducted almost a year after the launch demonstratevs the changes in attitudes of society: from a general support of low-level fraud to naming it a big problem. Our movement has proven that networking is a key to a successful communication. The European Commission see the #FraudOff! project as a pilot and an example for other countries. It has also shown that you can get great results for a small amount of financial investment if you work together. The brand is now used by more than 35 public sector organisations whenever they communicate about fraud. Partner organisations do not need to develop a new brand each year: instead, they communicate under one "umbrella" brand, not competing, but supporting each other in communication.
What's next?
We are currently working on the third year of the #FraudOff! campaign and we see that reporting and whistle-blowing are highly recognised topic of an ongoing ethical debate. Our research confirms the importance of informing and encouraging the public to act when you see or experience fraud. At the same time, we have a great challenge ahead – to ensure that the negative connotation of whistle blowing is not empowering our story about reporting fraud as a smart and responsible thing to do for every one of us.
---
The international fraud landscape
According to PwC's 2018 Global Economic Crime and Fraud Survey, 49% of global organisations say they have experienced economic crime in the past two years. 52% of all frauds are perpetrated by people inside the organisation
According to the 2018 Fraud Survey by multinational professional services firm Ernst & Young, the propensity of respondents who would justify fraud to meet financial targets has increased on a global level since 2016. EY finds that 12% of respondents would justify extending the monthly reporting period, 7% would backdate a contract and 7% would book revenues earlier than they should be meet financial targets.
The Corruption Perceptions Index 2017 ranks 180 countries and territories by their perceived levels of public sector corruption, using a scale of 0 to 100, where 0 is highly corrupt and 100 is very clean. This year, the index found that more than two-thirds of countries score below 50, with an average score of 43. The average score for the EU countries is 65.
The EU Intellectual Property Office Observatory offers a complete picture of intellectual property infringement by assessing the economic impact of counterfeiting, across different sectors and geographical areas. Trade in counterfeit and pirated goods reaches 85 billion euros (5% of total EU imports). Lost public revenues: 15 billion euros of government revenues.