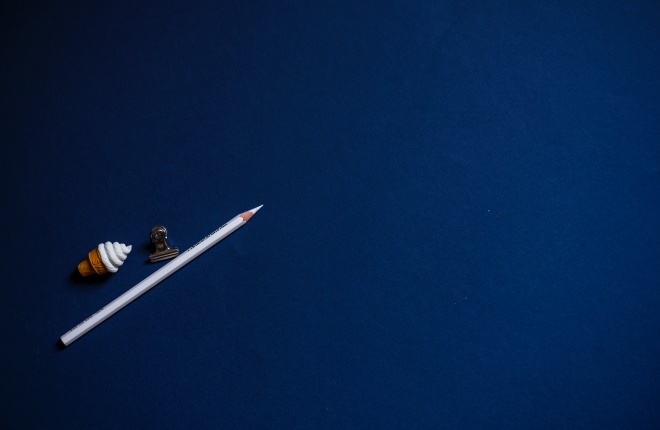 Our co-founder, Ben, would often say, "Why leave your values at the door when you go to work?"
Good point. Since business is arguably the most powerful force for change in the world, a good value system seems to be a sage idea.
(Photo by Joanna Kosinska on Unsplash)
Good for the world and good for business. Our research tells us that our Ben & Jerry's fans, who know and understand our values-led business model, are more than twice as loyal as those that don't know about it. We also understand that the millennial generation favours authentic, purpose-driven businesses and are twice as loyal to us as they are to other companies. We want a progressive set of values to drive our business and the decisions we make on a daily basis.
We want our business model to create progressive change throughout our value chain. We know that people have deeper, more loyal connections to businesses that have shared values. They will stick with those companies longer, through good and bad times, helping to smooth out any rough patches along the way. We've seen that during the dramatic moments in the global economy over the past decade.
When we consider the current global trends – climate change, wealth consolidation, political unrest and migration – we need to work from a solid set of values to move in a positive direction. From the very beginning, we've understood that business must be much more than the financial bottom line; that values lead to value. Businesses are a part of the community and must be engaged within the community to create positive change.
We aspire to be a company that, in the face of climate change and growing social inequities, takes responsibility for our part in creating solutions to the issues that face us all such as reducing our own carbon footprint, addressing the unjust consequences of climate change throughout our value chain and helping to reshape public discourse around the issues of equity, race and class. We aim to contribute to a renewed political landscape in which fundamental policy change to address root-causes of inequality is possible and achieved.
In 1978, when we first opened our doors as an ice cream parlour in Burlington, Vermont, we wanted to be an active, engaged part of the community. By 1988, when we were 10 years old, our business was growing and so was the community in which we did business. And the way we wanted to conduct our business had evolved into something more. By then, we realised that we needed to write down our conviction that business could be a positive force for change. And so, in 1988, we created one of the first corporate mission statements that included a social mission alongside the economic and product missions.
That vision is captured in the preamble of our three-part mission statement, that we are, "dedicated to a sustainable corporate concept of linked prosperity. "We've been working on what "linked prosperity" means ever since. The idea is as simple as it is radical: as the company prospers, all those touched by the company must also prosper, including employees, suppliers, customers, and communities. A simple idea, but it takes a lot of work by a lot of people to make it happen.
You could think of linked prosperity when considering how it benefits people through some of our more well-known examples: our liveable wage policy; ongoing support for family dairy farms, supporting small-holder agricultural producers by purchasing Fairtrade-certified ingredients and values-led sourcing partnerships such as with the Greyston Bakery in Yonkers, New York, where they hire people with barriers to employment and empower them with skills training, a renewed sense of dignity and a paycheck at the end of the week. Or you could think of linked prosperity as benefitting the planet we share by supporting sustainable forms of agriculture. No matter how you think about it, it's all linked.
A quarter-century after pioneering socially responsible business practices, we were excited to join the B Corp (Benefit Corporation) movement in 2012. Ben & Jerry's was the first wholly-owned subsidiary in the world, with full support from our parent company, Unilever, to gain B Corp certification. B Corps are a new type of corporation that uses the power of business to solve social and environmental problems. It is growing exponentially with certified B Corps joining the movement around the world.
"To fully meet our own vision, we must seek to use our company to support different approaches to global trade and agriculture that challenge the current paradigms."
Today, we continued to explore what a sustainable corporate concept of linked prosperity means, in all its forms. But we are not just exploring a theory; we are finding practical ways throughout our value chain to implement business decisions that manifest our best aspirations. Inside and outside of Ben & Jerry's, we challenge ourselves to keep developing and implementing new ways that linked prosperity can create more positive outcomes by the way we choose to do business.
We recently went through a comprehensive process of mapping out our five year vision for what we want to accomplish, which sets a direction that will carry us well beyond 2020. We came to the understanding that we need to deeply focus Ben & Jerry's on two overarching priorities: climate justice and social equity. The two intersect in profound ways. The work that we do as an agriculturally-based business, sourcing ingredients from the global north and south, selling ice cream around the world, compels us to address climate justice and social equity and deliver some significant results.
Globalisation
When you take an honest look at the global economy of the twenty-first century, what is often referred to as a 'free market' is no such thing. In the last few decades, it has been warped through national policies and trade agreements into a system that benefits the few at the expense of the many. The result is that the disparity of wealth in the world is now greater than at any time in human history, with those at the top living lives of luxury and outrageous excess while billions in the world live in abject poverty.
At the same time, the industrial food system in the developed world, while extremely productive, is deeply implicated in a wide range of serious social, environmental, and economic problems that cannot be ignored in the long run. Some new technologies and processes in the industrial food system also present risks to human and environmental health that are not well understood and that may not be worth the potential benefits. The list of these problems and risks is long, including:
Global climate change. Agriculture, including animal husbandry, is a major source of global greenhouse gas emissions and contributes to deforestation.        
Loss of biodiversity. Croplands encroaching on critical natural areas and other agricultural impacts are a major cause of the massive species extinction event the planet is currently experiencing.
Loss of agricultural genetic diversity – accelerated by the advent and dominance of genetically engineered crops.
Incomplete understanding of environmental, economic and health impacts of transgenic plants and animals, nanotechnology, and other novel 'food technologies' – in some cases without strong regulatory frameworks.
Fresh water scarcity; aquifer depletion; disruption of marine ecosystems; and degradation of surface water quality due to excessive irrigation, and overuse of nitrogen and phosphorus inputs.
Critical loss of topsoil through annual cropping.
Human rights violations, economic exploitation, poverty, and dislocation among migrant workers and rural communities.
Destruction of rural communities' economic and social fabric.
What does it mean?
Our company is a participant in both the global economy and the industrial food system. So, to tweak an old saying, since we are a part of the problem, we must seek to be a part of the solution. At a minimum, we have a responsibility to understand the social, economic, and environmental impacts of our business practices and seek ways to minimise, mitigate, or avoid the negative impacts that are associated with them.

But to fully meet our own vision, we must seek to use our company to support different approaches to global trade and agriculture that challenge the current paradigms; that aim to be truly restorative; and that promise to create social, economic, and environmental benefits in the world. And, because our company is small, one of the most important roles we can play is to become a vocal and unwavering advocate for serious reform of the global economy and the industrial food system.
We can achieve much throughout our value chain by sourcing our ingredients in ways that confront climate change and social equity. We call it "values-led sourcing."
Values-led sourcing
1. Caring Dairy™: We know that dairy farming has a significant impact on climate change. We are working to identify on-farm technology and management systems to reduce dairy farming's impact on the environment. We've been working with dairy farmers in Vermont and the Netherlands for many years to help them push towards the leading edge of sustainable dairy practices. Now, our global Caring Dairy™ programme offers our farmer partners a practical framework for understanding, evaluating, and improving the sustainability of their dairy operations.
The Caring Dairy™ programme is based upon an easy-to-use web based self-assessment tool, which enables farmers to evaluate their farm against a comprehensive set of economic, social and environmental criteria, or "sustainability indicators," for farming. Leveraging the results of the self-assessment, we then help each farmer develop a unique action plan to improve his or her practices in the identified areas. In exchange for participating, Caring Dairy™ farmers get a premium for their effort.
2. Fairtrade-certified ingredients: All of our products around the globe were fully Fairtrade certified (with the exception of our ice cream bars because of low production volume). To be clear, this means that all of our products (except our bars) meet the specifications required by Fairtrade International to carry the Fairtrade Certified seal. This does not mean that every ingredient (there are about 140!) in our products is sourced from Fairtrade producers.
While all of our key commodities, which make up the bulk of our product, are traded in compliance with Fairtrade standards, there are still a few ingredients, such as certain spices, nuts and fruits, that we are unable to source from Fairtrade farms either because they are not available or don't meet our specifications. (And, we should note, dairy does not fall under the Fairtrade programme.)
In light of those ingredients we cannot source Fairtrade, we created the Producer Development Initiative (PDI) with our partner, Fairtrade International. The PDI intends to build and strengthen the supply chain for Fairtrade producers. We continue to develop the PDI to help Fairtrade producers truly realise sustainable livelihoods. We've mapped our Fairtrade supply chain to identify areas for improvement such as adapting to climate change, improving yields and capacity, diversifying, among other initiatives.
3. Non-GMO conversion: All of our ingredients sourced for our North American production are non-GMO ingredients, by seed source. Since we've been sourcing non-GMO ingredients by seed source in Europe and Asia for several years, we are proud to report that all of the ingredients we purchase are non-GMO by seed source (except for our ice cream bars, which, again due to low production volume, were not part of the conversion).
Measuring what matters
Transparency is increasingly important. Ben & Jerry's has been issuing public reports on our social and environmental activities since our 1988 annual report. Currently, we are using a model of metrics that we call our Quality of Results (QoR) framework to measure our performance in key priority areas.
The QoR measures specific goals for our social and environmental performance within 14 priorities of our business. We also engage a third party to provide assurance that we are doing what we say we're doing. In recent years we have been using Moss Adams LLP, an independent accounting firm based in Seattle, Washington, to review specific QoR indicators that Ben & Jerry's sets as priorities for the year.
Going forward, we plan to test some adjustments to the QoR framework to better assess our impact on people and the planet, as well as our practices and progress. We plan to raise the bar for current QoR indicators, set annual targets for Social Mission initiatives and clarify indicators of success and how we can continue to improve upon our linked prosperity business model where we continue to turn values into value.
---
About Ben & Jerry's
Founded by Ben Cohen and Jerry Greenfield in 1978 with the opening of an ice cream parlour on May 5 in Burlington, Vermont, United States.
The use of chunks in Ben & Jerry's ice-cream is popularly attributed to Ben Cohen's anosmia, a lack of a sense of smell or taste: he relied on texture to provide variety and intense flavours to his diet.
In 1988, the two men were awarded the title of U.S. Small Business Persons of the Year by U.S. President Ronald Reagan.
The top five flavours of last year were (from five to one): Phish Food, Chocolate Fudge Brownie, Chocolate Chip Cookie Dough, Cherry Garcia, and Half Baked (a combination of brownies and cookie dough).
The Ben and Jerry's ice cream factory has an onsite ice cream graveyard with the graves of past ice cream flavours. Favourite flavours can be resurrected from their grave to be brought back into stores.