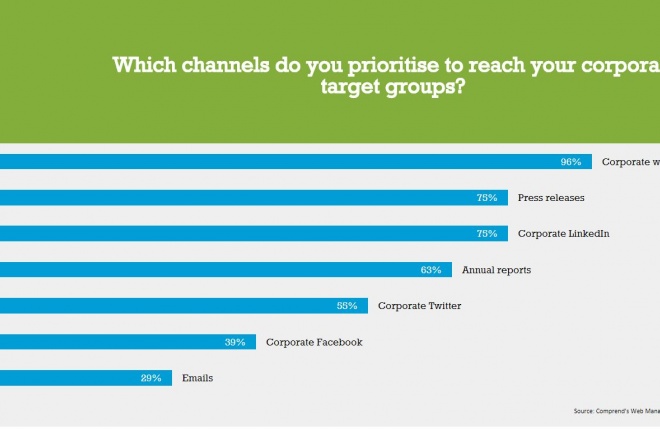 The corporate website remains the most prioritised channel for corporate communication teams, with Emails a distant last choice. The use of LinkedIn has seen an increase from last year with 75 per cent of communications teams rating LinkedIn as the second most prioritised channel together with press releases.
This year's Web Management survey by Comprend revealed some of the communication challenges that corporate communications teams meet, as well as the thoughts about the upcoming GDPR. The survey gathered 83 responses from a wide variety of publicly traded European companies and the survey had 60 questions covering themes such as UX, GDPR, social media and content management
In another important finding by the Web Management survey, limited resources mean that analytics are not utilised to their full potential; despite this, teams are eager to invest in developing skills in search engine optimisation (SEO), with majority of teams relying on the free version of Google Analytics to measure their work.
To find out more, visit www.comprend.com/spotlight. Image: Comprend.com