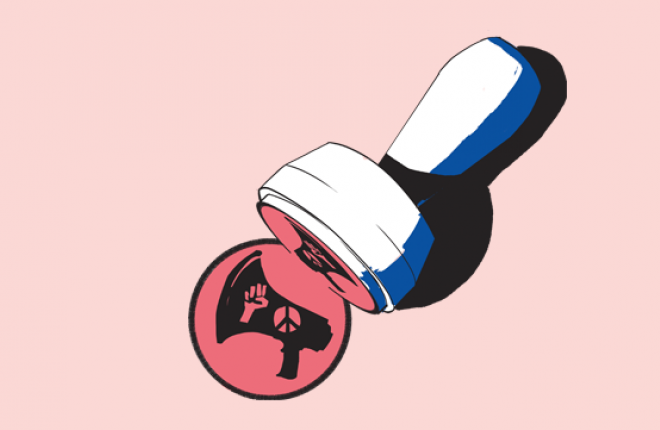 My 65-year-old mum is a self-described vegan anarchist. She refuses to buy products tested on animals, insists I call her "Teresa", and would gender neutralise nursery rhymes when I was at primary school.
But even she didn't understand the 2018 Paid to Lie/#Spycops campaign by cosmetics retailer Lush.
Lush isn't a brand that shies away from injustice. Like its older cousin Body Shop, the company campaigns on issues ranging from deforestation from palm oil production to protecting endangered Hen Carriers. 
Its Paid to Lie campaign took aim at undercover police in the UK having sexual relationships with the same suspects they were monitoring. Not familiar territory for a beauty brand, and a stance that lead Teresa to question whether this was "just shock advertising," and how the company planned to bring about change. 
In a very different industry, on a very different issue, Nike's championing of anti-racism campaigner and NFL quarterback, Colin Kaepernick, received a very different response. 
Against high-publicity stakes the sports brand sided with Kaepernick, a man who divisively 'took the knee' during the American National Anthem to protest police racism. In doing so they suffered online opprobrium, a share price dip of three per cent – wiping billions off their stock market value – and international headlines. But fast forward three weeks and, thanks to their brave stand, Nike's share price reached a five-year high, sales grew more than 30 per cent and the brand reached a six billion dollar valuation. 
Some would say it is easier for Nike. Their heritage in standing up for issues like gay rights, when selling millions of trainers in countries across the world, puts them ahead of many others. And their largely young, extremely diverse customer base means their stances are in line with the expectations and demands of a powerful generation.
What happens if your company isn't one with a youth base, or even consumer-facing? A large proportion of the FTSE, from G4S to Glencore, don't sell direct to the woman or man in the street. And yet, the business and social cases for speaking out are remarkably aligned and both hinge on one thing: authenticity. 
Is activity of any kind aligned with your purpose? If you don't know what you stand for, don't take a stand. The example of Lush's Paid To Lie/#Spycops campaign was referenced at a roundtable jointly hosted by the European Association of Communications Directors as one where materiality to the business and morality came into conflict. Ask yourself whether the action, and its impact, helps or hinders delivering your purpose and whether it stays true to the culture of the organisation.
Do your people and customers want this? Any company's primary responsibility is to the people it keeps in jobs. When Google and Microsoft launched a campaign against President Trump's plan to deport 'Dreamers' (undocumented young immigrants), they did so with the knowledge that many of their own immigrant workforce might be affected. 
Yet herein lies the rub. What happens when business and social justice collide? 
Ask the experts
Consider a thought experiment. An autocratic government sweeps to power in your country and suspends foreign travel rights for people who cannot trace their national identity back two generations. You run a company that has a lucrative government contract. And while most of your workforce passes the nationality test, a small proportion including yourself don't. Few would deny you the right, as an individual affected, to speak up and speak out. But the commercial consequences would be severe. So, what to do? 
Most real-life examples are not as stark. That is unless you're a company in Trump's America who employs skilled Mexican labour. But the conflict between commercial consequence and social activism is one that many are confronting. And none more true than in my country, the UK, with Brexit. 
It is unclear whether people employed by James Dyson or Wetherspoon's founder Tim Martin support their Brexit campaigns. And it would be disputed by these two very men that their stance is out of kilter with the British public, the interests of their workforce, or indeed many economists who might disagree. 
But we can take one learning from this. Where a stance could alienate your workforce or worse yet, negatively affect them, it is wise to remember the primary responsibility of a company. If jumping on the bandwagon threatens jobs, then don't. Taking a stand can't be a top-down management edict. And it can't be conjured in a meeting room by expensive brand consultants and a praetorian guard of executives.
"Where a stance could alienate your workforce or worse yet, negatively affect them, it is wise to remember the primary responsibility of a company."
Robust insights and analysis should always be the underpinning of corporate activism. Consulting employees, and activists, and building consensus quickly will determine success. 
You would not launch a new product without asking the experts, so do not wade into an issue without consulting campaigners who have worked on it for years. When launching their impactful Rang-Tan ad about palm oil, British supermarket chain Iceland Foods teamed up with activist NGO Greenpeace. Partnership with organisations and campaigners who are not natural friends can mitigate challenges and boost impact. 
Ensuring your own house is in order is perhaps the most important consideration in taking a stand. A shadow front bench politician once advised: "people can forgive mistakes, but they find it hard to forgive double standards." At the aforementioned roundtable, leading communicators concurred that while no organisation is perfect, this should not necessarily stop you from speaking out. As long as you are honest about the challenges you face as a business and clear about what you are doing about it, you can do both in tandem.
There are, however, hygiene factors for sensitive issues that need careful consideration.
If you're joining the #MeToo movement, are your workplace harassment policies watertight? And consistent globally? Can you be unequivocal that women at all levels feel safe and have not suffered at the hands of colleagues? Similarly, if you have an all-white board or leadership team, is it authentic to take a stand supporting the Black Lives Matter movement? Auditing your plans, processes and programmes before speaking out is essential. 
"If you're joining the #MeToo movement, are your workplace harassment policies watertight?"
And last, to be authentic, it should deliver impact. The Body Shop recently turned its stores into 'activist hubs'. The intended impact? Stymy the decline of high streets by giving people more reasons to visit, and bring new audiences to its campaigns. 
Impact must start with measurement, and measurement should identify the change agents – the people to target who can bring about the change you want to see. This may feel like an uncomfortable departure for communicators, but is essential to delivering change. 
If taking a stand is authentic, insights-based and impactful, no matter how well planed, there will be some criticism. So work out how to deal with the haters. 
We can take some light relief from British lingerie brand Playful Promises. Their marketing team clapped back at a man objecting to them choosing a gender fluid drag queen to front their new Bettie Page line, by reminding him of the company's mission: 
"You can't claim to be a fan of Bettie Page without acknowledging that what she was doing at the time was severely frowned upon. If you expect a brand named after her to do things by the book, you're missing the point of what she stood for."