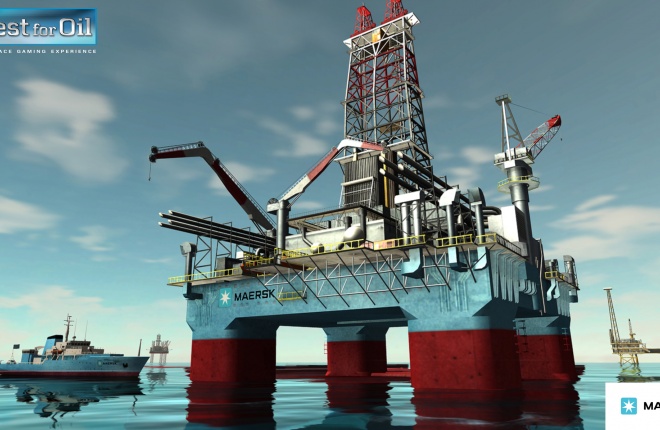 An image taken from Maersk's Quest for Oil game
Gamification is by now a tried and trusted technique to engage audiences, whether customers or employees, in brand-building or marketing activities. But what about communication programmes that involve games specifically designed to raise awareness about the company, to improve retention and increase engagement levels? Can they achieve solid communication goals while maintaining the player appeal of popular computer games?
From August 2012 to June this year, Danish conglomerate Maersk Group, best known as the largest container ship operator in the world, developed and globally launched Quest for Oil, described in an official press release as "a real time strategy game with integrated mini games, the first of its kind". The game presents players with a series of complicated tasks  – locating sources, drilling, deciding on tools and measuring the suitability of soil – while at the same time going head to head with competitors in a race against time. The stated aim is to give players a sense of the heavy technology behind the complex search for oil, an underreported branch of Maersk's operations and one which the company hopes that this game will highlight.
Gaming goals
According to Anja Andersen, brand manager at Maersk, the idea for the game initiated from a marketing and branding need to tell the story of Maersk's oil and energy business. "The idea was to create something totally new with Maersk as the sender," she told Communication Director, "something not seen before from an oil and energy company, something which would engage the general public and invite people into this world of oil and drilling." There were serious communication goals involved with the game: shedding light on the complexity of oil drilling, being used as a digital tool in schools (an educational package is being developed to be distributed in high schools first in Denmark and then other target countries), and, surprisingly perhaps, recruitment: "Maersk needs people in this area," explains Andersen, "and aims to recruit almost 3,000 people over the next couple of years, so we wanted to tell the story of our two core businesses in this field, Maersk Oil and Maersk Drilling. These are exciting jobs with innovative and high tech equipment and which you could be part of if you want to work for us." In the game, three job representatives appear as advisors and are mirrored in the press kit, which details the real-life advisors working at Maersk and the many different job types you can find in this industry.
To help develop the game, Maersk turned to Danish games developer Serious Games Interactive and the two strove for a satisfactory compromise in the age-old struggle between what is desired by the client on the one hand, and what the service provider decides is possible on the other. As Anja describes, "we had weekly meetings in the eight months of production where we from the internal perspective said what we wanted and the vendors as external experts told us what we could get." The trick was to create a game with genuine insights into the business, without getting bogged down in overly-technical details – in other words, to remember the fun part of gaming.
Although she describes the experience as positive, Anja admits that there were challenges along the way in deciding on a shared language within the gaming world, with "Maersk on the one hand making sure its brand, key messages and knowledge where integrated into the game, and the game developers on the other hand, focusing on their métier and not compromising their insights into how games work on users in terms of strategy and excitement."
Design, difficulty and durability
To gauge the look and feel of Quest for Oil, Serious Games Interactive researched games in similar genres to see what worked both visually and in terms of gameplay, while also working closely with experts from Maersk in making sure that the visuals had affinity with the company's current corporate design. According to Simon Egenfeldt-Nielsen, chief executive officer of Serious Games Interactive, finding the right balance between the strategic dimension of the game and the range of mini-challenges was not easy: "This was actually one of the most difficult things to get working, because we didn't want one to get in the way of the other. We didn't want it to feel like playing a slow game like chess and then switching to something fast-paced like soccer. We found a good balance in the end, where what is there doesn't feel out of place." Frequent user-testing helped the team decide on the difficulty level of the game: the finished product is designed to hold the interest of professionals in the field as well as curious beginners. As Simon explains, the game is designed "so an expert in oil exploration will have a much better chance of winning than a novice, although the novice will be able to pick it up, especially in video clips explaining the facts behind the gameplay. Of course the expert will also need to figure out the game but the seismic analysis, for example, is really not trivial and you will need to understand the finer details of this or spend an extraordinary amount of money to wing it."
Future directions
Launched internationally in Copenhagen on June 10, the game was supported by a social media campaign and with an email mailout to key influencers in the areas of engineering, science, gaming and e-learning. The game is also included in introduction packages for new employees in order to familiarise them with the business model and its processes. Maersk measures the game's success in terms of targets and visits to the site, as well as downloads and, more specifically, how many people play the game, how long they play and whether or not they share it on social media. They also keep track of media attention and mentions: the game has been covered in media across Europe and beyond. Maersk also has ambitions for the game's future. "During the production period we also made a wish list for a new version of Quest for Oil" says Anja Andersen. "We could make it multiplayer, mobile, expand the locations on the globe of where we do business, and create more mini games with key messages of the industry, be it safety, environment or people."
Simon Egenfeldt-Nielsen suggests that the success of corporate games like Quest for Oil lies in companies recognising that "to really get somewhere with end-users they have to create some value – not just pushing a banner or video towards people." The strength of games as a corporate communications tool, he feels, lies in "telling people why something is important, what it involves and letting them try for themselves. As an old saying goes: Tell me, I'll forget. Show me, I'll remember. Involve me, I'll understand."
Expert Opinion
Before joining Arion, the largest bank in Iceland, as head of marketing in 2012, Elísabet Grétarsdóttir worked for Icelandic video game developer and publisher CCP Games from 2006 as marketing director and was responsible for EVE Online's global marketing strategy.
It is always admirable when large traditional corporations dare to take an innovative approach in the way they communicate. In recent years, Maersk has successfully embraced social media and it is not surprising that they have created a game as part of their recruitment strategy. Games are by their nature engagement engines, and since studies show that around 60 per cent of the adult population play video games, this approach makes sense. The game captures one's imagination quite well and it is not hard to associate with Maersk's quest for oil. The experience is pleasantly thrilling and I found my adrenaline rising as I battled against my virtual competitor. Unfortunately the game comes up a little short in terms of its accessibility. The usability design seems a bit dated and the game starts off as too hard to master and later becomes too easy to beat. It is essential that successful games capture the user from the first second and hold their attention. That means a flowing player experience combined with a well-balanced game that both challenges players so they don't find it boring, but at the same time is not too hard so they don't give up. Since the project changes players' perceptions of Maersk and careers in the oil industry, the future goal should be to increase the proportion of those that finish the game. Growth hacking as part of the game design could increase user numbers and engagement levels. Overall this is an innovative and a bold move and it has a lot of potential. 
Simon Nicholson is social media manager for Honda in Europe, where he is responsible for social media strategy and structure in the region. He began his digital/social career at Microsoft Europe in Brussels, before moving on to join software firm SDL where he was responsible for social media.
The strategy behind this corporate game by Maersk had a particular resonance with me. At Honda we have a similar challenge in that we are best known for our cars and motorcycles but have a wide product range from marine engines to lawnmowers. The strength of a corporate game is within the business context in which it sits, what objectives does the game build upon? In this sense I was pleased to see that it was one aspect of an integrated campaign across social media, email, and traditional public relations. The game may lend itself to the objective of engaging influencers and potential employees, but it is the overall campaign around the game where the broader objective of changing the company perception is developed. For the game to truly work for influencers as a communication piece, it is key that the game aspect is not compromised: from playing the game you can see the depth that has gone into it as an interesting piece of entertainment. On the other hand, Maersk has done well to protect the authenticity of the game so it is still educational. This is a good model of how a brand should work with a specialist partner, where the core communication is owned by the brand and the partner works well within its clear scope and remit. One issue I feel that Maersk needs to be mindful of is how the campaign as a whole evolves, and their focus is not just optimising the gaming function. Maersk has a great foundation in place and I'm curious to see how it develops.