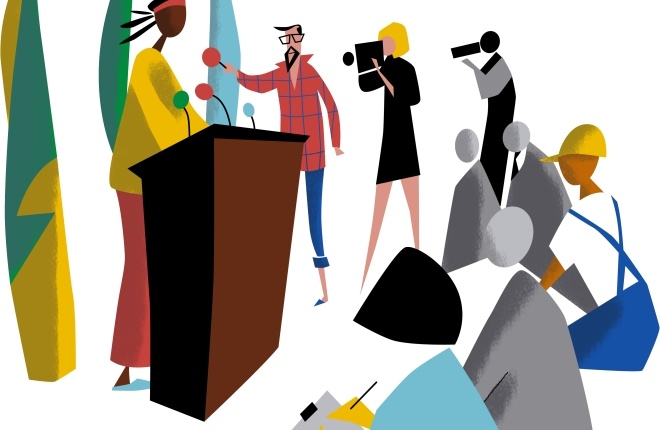 A company's Brussels representation engages political institutions and keeps the company informed about the latest developments in the European Union, thereby influencing the corporate strategy. But how does this double role align public affairs activities with the company strategy?
When you start working in public affairs, you quickly realise that there is a huge perception gap between what you really do and what people believe you do. Even inside your own company, among the top executives, there is a deeply rooted idea that public affairs is all about small talk and wining and dining. In some ways, networking cocktails are indeed part of the job, but it is clearly only the tip of the iceberg. We public affairs managers clearly have some work to do to convince and explain to our company's top management that we can be an efficient tool, with their help and trust.
The right people
Public affairs work is like working in an embassy: it requires interacting with institutions embedded in a complex environment. Our role is to defend the interests of our company in front of the institutions but we also often have to work with other actors: other companies' public affairs offices, non-governmental organisations, sectorial associations, regions or academics. Developing a constructive dialogue with actors outside our industry can be very useful in building a stronger position. For example, in the automotive sector, with the technology innovation bringing us towards connected and autonomous cars, we cannot limit ourselves to watch what the other automotive actors are doing: we need to go further and also look at actors from the digital world.
To bring credible and constructive data, we need to have the support of internal clients: the group's internal departments, experts and everybody in the company who might be interested in developments on the European Union level. It is therefore essential to weave a solid internal network, to be able to deliver good-quality service to the internal departments and to gather the right information in order to build a position on a specific file.
The right way
Once we have identified the type of file and determined the most relevant type of lobbying strategy, our role is to manage the expectations both from our internal colleagues and from our outside partners. As a public affairs office, we are in a strategic location right at the center of the information flow. We have information on our company's strategy, interests and capacity as well as about the political agenda. We are therefore in the best position to match agendas. In order to do so, anticipation is essential. The best we can achieve is to put on the agenda an issue for which our company has a technical solution. In the automotive sector, the case of electric vehicles is a good example: car companies have the technology to develop zero-emission vehicles while institutions are in a process of reducing emissions in the European Union. The two can go in the same direction.
We have three main missions: reputation building, strategic monitoring and ensuring favourable policy environment to support business development. To perform each of them, what we do goes beyond a simple transmission task. We first need to have a clear knowledge of the file and to perform a technical analysis. Then, we have to choose the right way to formulate our position, the right recipient and the right moment to deliver the message. This requires surgical precision since the lobbying strategy will be different for each case.
Identifying opportunities
For a core business issue – like CO2 in the automotive industry – the insitutions expect us to come forward with a clear position. So we need to be active within our sectorial association and make sure that the position of the industry is in line with our company's interests. On more transversal issues, which impact most of the companies (such as employment or intellectual property legislation), employers' organisations are often the most relevant channel. Some specific issues may require the creation of ad-hoc coalitions, when they are not covered by the sectorial association or transversal associations. For instance, we built an ad-hoc coalition with other car companies to work on financial topics that might impact our subsidiary banks. This unexpected issue for the automotive sector could bring us to also work with some other sectors.

It is also our mission to accompany business development and identify future business opportunities. For instance, it is crucial for a car company to push for the development of future infrastructure for electric or connected vehicles. The public affairs office therefore has to seize the opportunities to do so. We can also choose to use some European Union initiatives as communication opportunities, chances to showcase our best practices and profile our group as forward thinking. These communication actions are good prospects for the development of our network and can be decisive for other files. It is important to bear in mind however that there is no sealed separation between the files. An issue can start as a communication opportunity before turning into a core business issue. For example, Renault is a pioneer in circular economy solutions. Naturally, we have been using it as a communication opportunity. Today, the European Union is working on a legislative proposal, turning the file into a core business issue with significant business impact for us.
"We have three main missions: reputation building, strategic monitoring and ensuring favourable policy environment to support business development."
In addition, you need to organise your office by bringing tools and processes into your day-to-day working life. For example, rationalising the management of your meetings is vital. Mapping stakeholders and building a contact base, capitalising in order to learn from your mistakes and remembering good practice... all this may seem basic but it is truly essential to increase the efficiency of your public affairs office. To improve the day-to-day management of your files, tools like policy radars, overviews and factsheets can be extremely useful. To be credible both in front of the stakeholders of your company and external partners, you also need to introduce processes such as a systematic cost assessment of the files and regular reporting. On top of this, working in multinational companies requires a lot of coordination between the various national public affairs offices. A strong network of public affairs representatives across the countries where the company is located needs to be built. Many IT tools can help you do that by sharing key documents on a file with your entire public affairs network.
Being visible
To sum all this up, public affairs work goes far beyond what we might expect. It is work performed in a complex environment, with a high added value for the company and requiring real expertise as well as strict organizational abilities. It is essential to pay attention to four elements: being visible, being available, being credible and rationalising internal work relations.
Being visible is of course about having a good network and being part of the right events, so people know who you are and what you want or can do for them. But it is also about being in the right circles of influence. To identify the circles in which your national counterparts work and where official representatives in the European institutions from your country meet is crucial. Usually, these kinds of organisations already exist. For example, the Circle of French Permanent Delegates can play that role for French companies in Brussels.
Conclusion
Being visible is indeed necessary but not sufficient. It might seem obvious, but building a good network and being in the right circles is useless if you are not available to answer the questions and meet the demands of your contacts. The key to having more impact is to build long-term relationships. The pre-requisite to build these long-term relationships is to be credible, both internally and externally. It is important to be identified as a reliable partner by your peers in the institutions and other companies. You have to bring to the debate data that is constructive and brings something to your contact.
Besides, it is very vital to always defend your companies' interests in an ethical and transparent way. Often, within the company public affairs is not seen as core-business and so it is important to highlight your added value. To achieve this, you need to always be able to inform your relevant internal experts about future strategic issues. You can also take the opportunity to showcase your added value by systematically assessing the economic value of a file and how it contributes to the group's objectives and business performance. Highlighting your contribution in terms of savings or funding obtained can also be a way to show the importance of public affairs within the company.
To finish, once you have managed to create a good network of experts and people at key positions within the company, you need to make sure you become an essential figure in their day-to-day work, someone they will automatically call on. This is essential so that they can inform you about anything that can be related to public affairs (information, questions, requests and so on.). For this, rationalising and creating processes for your work relations can help boost your credibility. You have to weave a net of processes, with your public affairs office in the middle.
Hopefully, this article will have shown you that working in a public affairs office means a lot more than shaking hands all day long: it is a job that requires a deep knowledge of the files, a strict organisation and the ability to tread very carefully, with, once again, surgical precision. A significant part of our day-to-day work is concentrated on our own company and our mission is to help it in its relations with the European institutions, including by continually reminding them of what public affairs can bring them, with their help and with their trust.