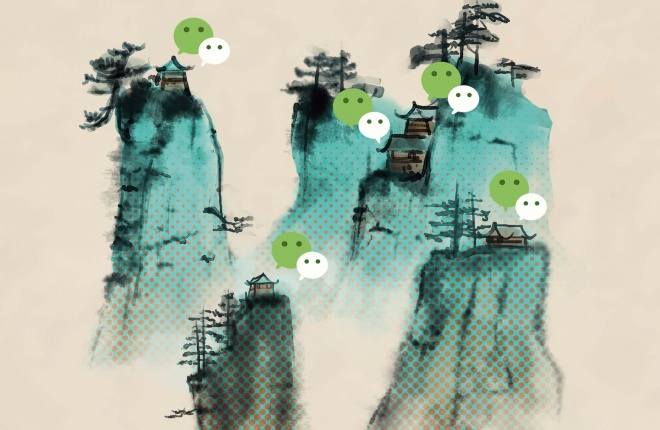 WeChat is an integral part of everyday life in China. 762 million active users worldwide keep themselves informed via the app: that's equivalent to nearly the entire population of Europe.
With WeChat, users search for people in their vicinity, order food or taxis, play games, pay restaurant and electricity bills or book flights and theatre tickets. The reach and influence of the messenger are correspondingly wide. No other tool, whether Facebook or WhatsApp, has anything like the market penetration of the all-rounder from China.
Figures recently presented by the China Academy of Information and Communications Technology are incredible, even for China: 95 per cent of the above-mentioned 762 million WeChat users use the tool daily. 36 per cent even check their account more than 30 times a day. Or, as my colleague in China put it: "When I pick up my mobile, I look at what's going on in WeChat."
Meanwhile, western companies have recognised the potential of WeChat when it comes to reaching Chinese customers and consumers. A question that often crops up is: what's the difference between WeChat and WhatsApp or Facebook Messenger which are common in Europe? After all, all three are instant messaging tools with which messages, pictures, voice and video files can be sent. However, the possibilities of WeChat go beyond the functions of WhatsApp, Facebook Messenger and Twitter.
WeChat offers company-specific functions which customers can access and use directly. In this way, daily messages to followers can be sent in a kind of company profile (subscription account). In addition, companies can make further content and services available via a configurable menu where, and here's the relevant bit, parts of the homepage can be directly integrated.
Thus, WeChat not only competes with other social media services and messaging tools, but also with websites and company apps. Supplemented by e-commerce functions, the payment service WeChat Pay and the open programming interface, business models can be fully portrayed in WeChat.
WeChat as a marketing tool?
A couple of examples: a large trader in fine foods wants to present his products specifically to Chinese consumers (both in China itself and during their journey to Europe) and motivate them to buy. The company advertises its products in the subscription account. As with all communication channels, the information is specially prepared for the target group.
"No other tool, whether Facebook or WhatsApp, has anything like the market penetration of the all-rounder from China."
Suppose the trader advertises Austrian specialities with a campaign. While Mozart chocolate balls and Sacher cake are instantly associated by Europeans with Austrian treats, most Chinese need more information about the product. The history of the traditional company Sacher and its legal dispute with the company Demel about the original recipe make the chocolate cake something special: a Sacher cake promises tradition and quality. So it's not about clumsy product marketing, but about imbuing products with a feeling.
Ideally, the product communication via WeChat should arouse a direct desire to buy. The purchase can be made in the shop or via a service account in WeChat, in which a complete e-commerce shop with customer relationship management connection is integrated.
Tourism and regional marketing can also benefit from WeChat. Postings of landscapes, attractions and events with additional information on local customs and festivals are communicated quickly, and, thanks to beautiful landscape photographs, are a welcome eye-catcher. Here too, the added value of WeChat lies in its integrated interface, for example, to travel portals: information about the availability of hotels can be displayed via the menu in the profile, along with booking options.
On holiday, travellers can also ask questions about opening times or current events directly in WeChat and get in touch with the tourist office. This gives tourism managers in Europe an entirely new way of advertising their region to Chinese travellers. (And, by the way, hardly any other group of travellers to Europe is set to increase as much over the coming years as the Chinese. So it's time to adapt.)
Every beginning is difficult
One characteristic of WeChat is the rudimentary search and closed communication – users only see the content of their direct contacts. This poses special challenges for companies: whereas on Facebook, Twitter and so on they can draw attention to themselves through purely online activities, this is considerably more difficult with WeChat. Therefore, companies often choose offline campaigns to draw attention to their new WeChat channel. One popular campaign mechanism is WeChat Instantkill – at a trade fair, potential users are invited to send a message to the company account at precisely 15:00.
Whoever sends the first message after 15:00 receives a prize. Whoever sends their message at 14:59 or was not the fastest, gets nothing. Afterwards the account will instantly have gained the participants as fans, thereby giving the company a head start for their WeChat activities.
The necessity for offline campaigns in order to draw attention to a WeChat channel also shows how prominent WeChat has become in China. WeChat is not simply just another communications and marketing channel, but is digitalising life in China. Whether in shops, on business cards or on the underground, everywhere in China you see the little QR codes which draw attention to the WeChat activities of people and companies and create a link between offline and online.
A must for companies in China
According to the August 2016 figures from the China Internet Network Information Center, over 710 million Chinese are now online. Of these, 92 per cent i.e. 652 million use the internet with their smartphone. Since this pretty much corresponds to the number of WeChat users in China, we can equate the internet in China with mobile internet and thus WeChat.
The high number of users and the diverse possibilities of WeChat do, however, entail a certain complexity. For example, which company account is right for your purposes? There are two different company accounts to choose from, which differ significantly in terms of user behaviour and functions: the subscription account and the service account.  Subscription accounts are similar to company accounts in other social networks. Daily messages can be sent to your followers and further information provided via the menu.
Service accounts, on the other hand, are more like a mobile website or an app than a classic social media account. Here, companies are not only able to inform their customers about products and services, but also make these directly available for purchase. But don't worry: to start in WeChat you can simply choose a subscription account to advertise via content marketing. Later, the subscription account can be modified into a service account.
These examples show that the functional diversity and adaptation possibilities at WeChat far exceed what is available with other social media services. The tool is not just another communication channel, but, if it is used wisely, an additional sales channel which is indispensable in China. Which makes strategic planning and a bold approach even more highly recommended. There's only one thing you should avoid: treating WeChat in a cursory manner, as is often still the case with Facebook, and letting it run in parallel to other activities. That is wasted potential. Precisely because of its immense importance for sales, a WeChat presence should be integrated into the sales processes early on and coordinated with other marketing activities.
---
WeChat at a glance
Of the 750 million Chinese Internet users, 92 per cent use the internet on their smartphone and 90.4 per cent use messaging services – above all WeChat and the sister company QQ. 
Higher usage times per day than any other smartphone apps, including internet browsers.
Apart from the messenger, WeChat also includes a variety of other services: Official Platform, Ad Platform, Sticker Platform, Third Party App-Platform and WeChat Pay
Strong integration of information transfer, marketing and sales activities
The three main reasons to use WeChat are: usefulness, to follow a business and to receive promotional information/access services provided by official accounts.
With WeChat generally (almost) everything is possible – but strategic planning is vital