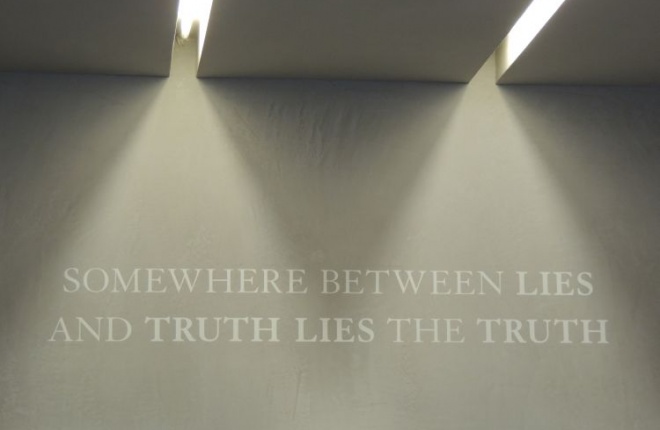 Managing reputational risk is one of the key responsibilities of corporate communications, a risk intrinsically linked to our stakeholders and the way we deal with them.
An organisational reputation is a fragile asset for any brand. Large, sophisticated corporations include the brand value into their balance sheet, while the rest rarely go beyond a mention in the CEO's introduction in the annual report.
(Image: Damien Hurst, "Treasures From The Wreck Of The Unbelievable" at the Punta Della Dogana in Venice / Photo: Louis de Schorlemer)
Often, executives associate reputation with a high-profile, fashionable consumer brand. This leads the discussion on to marketing spend and that's where it ends for the thousands of mid-sized or smaller enterprises, as they don't dispose of relevant communications budgets.
Let's therefore take a step back and explain how the reputation of an enterprise works. From a stakeholder perspective, reputation is defined as the intellectual, emotional and behavioural response as to whether or not the communications and actions of an organisation resonate with their needs and interests.
To explain why reputation matters, we can take the example of a pharmacy. When asking for prescribed drugs, there is no difference in the quality of product, nor in the speed of delivery, nor in price from one pharmacy to another. It is purely transactional and we can go to any pharmacy to buy our medicines.
Yet, we tend to go back time after time to our favourite pharmacy. And while an initial choice may be influenced by geographical location, it is our subjective feeling that we are in good hands that makes us return. We appreciate the good advice of the pharmacists, we like when they know us by name, when they remember our past concerns, when we can trust them for their discretion.
In other words, it is trust that impacts customer preference when doing business.
Understanding stakeholders
Trust also enables an enterprise to charge a premium for products and services, to benefit from stakeholder support in times of controversy, and to acquire and keep good employees. People like what they know and only a few of us are real adventurers. We don't like change.
The vast majority of customer loyalty and buying decisions are influenced by emotional as well as rational factors. While the prevailing classical economics mindset puts reason at the centre of people's fiscal actions, behavioural economists believe that rational considerations actually account for less than one-third of human decisions and behaviours. This means that the majority of a customer's buying decisions are made from the heart rather than from the head.
As most of our brands or companies are unknown to the larger public, it is enough for us to identify our stakeholders and collect as much information as possible about them. Not all businesses need to go for a full inventory, but some may want to opt for a succinct stakeholder mapping for each production site or function.
A survey providing a proper assessment of the stakeholder's advocacy and attitude can complement the map and help prepare for an outreach campaign.
Possible stakeholders
| | | |
| --- | --- | --- |
| Employees and representatives | Media and online community | Communities and neighbours |
| Candidates | Investors and financing | NGOs |
| Customers | Authorities | Trade associations |
In preparing for stakeholder communication, we need to put ourselves into their shoes and try to understand their needs. The combined goodwill of stakeholders provides an organisation with its license to operate: employees who enable the company to deliver products or services, communities and NGOs who do not disturb operations. Or public authorities who provide the formal permit to run the business.
But every license to operate comes at a price.
Each organisational touch point has the potential to affect stakeholder perception and the organisational reputation. So in a world where six out of 10 people believe search engines over human editors, the difficulty is to make sure your message gets onto page one of Google's results.
While most searches generate hundreds of thousands of results, we hardly ever go to page two or three to explore additional sources. Our trust for those results is gone. And algorithms continue filtering information along standard protocols, generating uniform results across geographies, cultures and languages.
Humans would probably provide additional nuances in function of their age, gender, education, country, language, socioeconomic background or personal judgment. Then add the fact that two thirds of the general population find leaked information more believable than press statements (according to the Edelman Trust Barometer 2017), and you'll get an idea of the level of distrust. Not that corporate spokespersons would necessarily always tell the whole truth, but we should still be confident that what they say is factual and evidenced information.
We used to address corporate distrust with green or CSR initiatives, based on voluntary commitments from individual industry actors. But that no longer works. We face a proliferation of codes of conduct, binding commitments, audits and certifications.
The latter has seen a significant progression in certain industries although the absence of global standardisation is a limit. Non-compliance, exposure to alternative facts, accusations shared in 140 characters or even just a single picture are the new reality.
Many of these short-cut, simplistic fall-outs generate more attention and are more trusted than a lengthy, complex, nuanced report from a group of experts. So even experts can't be trusted anymore.
To (re)build trust, a good start is to gather stakeholder engagement data.
It is unlikely that authorities or NGOs will have the same level of understanding, of familiarity with our business. Do they actually really know what we produce or serve?  Or how we produce?  What do they know about our supply chain?
Assessing the real knowledge of our stakeholders must make us rethink the facts and information provided across our communication channels. Proactively providing the basics is a first, genuine step towards transparency.
The sheer fact that you have not shared some information can already be perceived as suspicious and read as an intention to hide. Establishing the facts limits speculation and uncertainty, which is what audiences dislike most. The absence of communication exposes you to all sort of accusations and to social media activism. Even old internet entries stay visible and may affect the reader's perception and ultimate purchase decision.
The traveler, the employee, the housewife - each have their dedicated forum to share their experience of interaction with your business and will leave a lasting comment online. Proactively and continuously monitoring the social media environment becomes a fundamental necessity.
The more profound the knowledge of our online footprint, the easier it becomes to react in times of acute hyper-reactions and to reassure our senior executives. In an overly emotional universe, any minor story has the potential to generate a buzz.
Even if we can see positive potential in a social media storm ("any publicity is good publicity"), most communications departments lack necessary resources and skills to properly manage a serious attack. And the repetition of hypes brings fatigue and distrust.
We are not well prepared to deal with emotions.
"We are not well prepared to deal with emotions."
Showing respect
There are numerous how-to lists for building trust with your stakeholders. If only it where that easy. But one primary thing to remember is that the fundamental leverage comes from your own employees (see the 2017 Edelman Trust Barometer).  It is no news that they come as an organisation's best ambassadors.
The one thing for a business to do  in order to build trust among the public is to treat its employees respectfully. And that's well ahead of listening to customers, ethical business practices or paying your fair share of taxes. T
reating employees respectfully goes beyond salaries and working conditions. It is about the intangible working climate, the dignity of people, the respect for their opinion and the genuine interest in the person and her well-being. While we translate those items into corporate key behaviours or codes of conduct, they really constitute the fundamental beliefs and values of the enterprise.
The respect for the resources like people or nature is part of the organisational DNA and reads into every interaction. Employees respect other employees, they respect customers, neighbours, suppliers, authorities, candidates. They transpose the company's attitudes into every day actions. That is what external audience resent.
At this stage, the boundaries between internal and external communications start getting blurry. The content and the format of our employee communication are going to affect the way external audiences perceive our organisation.
Therefore, we need to be terribly strategic when talking to our colleagues and must start with a reputational risk assessment to deliver appropriate talking points. All employees from all functions and operations must have access to the arguments that the company stands for. They all help us building and protecting our reputation.
Company values are long-lasting and set by senior leaders.
Good corporate communications and human resources enable executives to reproduce and cascade exemplary behavior like respect, empathy and truth. Those values transpire when fixing problems. We know things can go wrong, but the attitude of our supplier will determine our level of frustration. Communications is the art of dealing with people. We constantly need to remind ourselves that "those people" are highly emotional beings and that a variety of simultaneous perceptions coexists.
A recent study by the University of Florida suggests that an organisation's emotional culture characterised by joy, happiness, excitement and compassionate love, affection and warmth contributes to employees' trust, satisfaction, feeling of mutual control, and commitment towards the organisation. And that's what external stakeholders perceive when interacting with our business, with our people.
With the abundance of information and automated filters of information, there is a great benefit for any enterprise to fall back on core values and beliefs every time it needs to communicate.  Values and beliefs uphold the truth and the truth maintains trust.